Buffy Sainte-Marie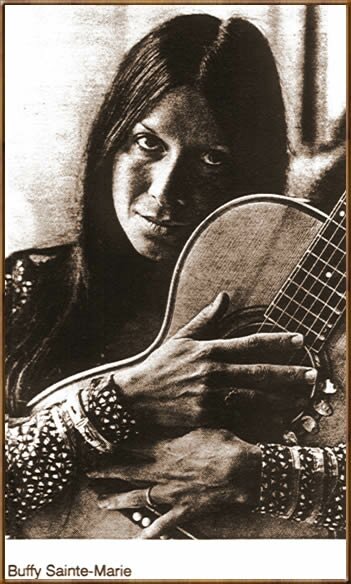 It is likely that the first awareness many contemporary non-Indian Americans had of Indian rights came to them through the lyrics of a Buffy Sainte-Marie song. A unique and versatile performer who informs her audiences about the wrongs done to Native Americans, she is a highly respected spokesperson for indigenous people.
Beverly Sainte-Marie, a full-blooded Cree, was born in either 1941 or 1942 on the Piapot Reserve in Craven, Saskatchewan, Canada. She was orphaned in the first months of her life and adopted by Albert C. Sainte-Marie and Winifred Kendrick Sainte-Marie, a part-Micmac couple in Massachusetts who had lost an infant daughter about her age. Nicknamed Buffy as a child, she learned Micmac stories from her mother and taught herself to play an old piano at the age of four.
Later, Sainte-Marie composed poems and set them to her own tunes. She received her own guitar as a gift when she was a teenager and considers this as a major turning point in her life. She quickly mastered the instrument and could play in more than 30 tunings, developing a distinctive style for her haunting songs about Native history and modern issues. While she was a student at the University of Massachusetts, she played at local coffeehouses and clubs and drew large audiences, combining original compositions with folk and jazz favorites. She earned a bachelor's degree in philosophy (with many courses in Asian traditions) in 1963 and was named one of the top ten graduating seniors at the university that year.
Soon after graduation, Sainte-Marie moved to New York City's Greenwich Village. This neighborhood was the center of the rapidly growing folk culture in the 1960s and supported a creative explosion of music and poetry. Enthusiastically embraced by the movement, Sainte-Marie regularly appeared at such clubs as the Gaslight Café, the Bitter End, and Gerde's Folk City. She signed a contract with Vanguard Records, which released her first long-playing album, It's My Way, in 1964. The following year, she played New York's famous Carnegie Hall, one of the most prestigious venues (places where performances are presented) in the nation.
Sainte-Marie possesses a unique singing style that includes traditional Native "vocables" (characteristic syllables without meaning that are repeated again and again) and the use of the Creek mouthbow. With her riveting songs about Indian oppression, Sainte-Marie soon became a political activist, using her music to relate the tragedies and triumphs of aboriginal (native) North Americans. Her song "Now That the Buffalo's Gone" is thought by some to be the first Indian protest song. Other well-known Sainte-Marie songs are "Until It's Time for You to Go" and "Up Where We Belong," the Oscar-winning theme song of the film An Officer and a Gentleman, which she co-wrote with Jack Nitzche. In the early 1970s, she wrote "Starwalker," which is sometimes called the theme song of the activist organization known as the American Indian Movement (AIM).
Although Sainte-Marie's early career focused on music, she was soon offered acting roles. She appeared on several television programs in the 1960s, including ain important episode of The Virginian in which she in insisted that all Indian roles be played by Indians. This episode, which also benefited from Sainte-Marie's assistance with the script, was praised as being true to life.
The singer-actress narrated part of the Oscar-award-winning documentary film Broken Rainbow, which told the story of a land dispute between the Hopi and Navajo people, and appeared as the Iroquois Clan mother/matriarch in Turner Entertainment's made-for-television movie The Broken Chain. A frequent guest on the children's television series Sesame Street, she has written for children (including the 1986 book, Nokosis and the Magic Hat) and for periodicals such as Akwesasne Notes. Never one to take herself too seriously, she has also done commercials for Ben and Jerry's ice cream.
Although performers are public people, some are able to maintain their privacy, and Sainte-Marie has succeeded in keeping her offstage life to herself. It is known that in 1967 she married Dewaine Kamaikalani Bugbee, a man of Hawaiian, American Indian, and European ancestry. It is believed that she has an adult son, Cody Starblanket. She has also been linked with the composer-musician Jack Nitzche and the actor Sheldon Peters Wolfchild.
Buffy Sainte-Marie continues to be an active voice in Indian affairs. She has played at concerts in support of Leonard Peltier, the AIM activist and political prisoner who is currently serving two life sentences at Leavenworth Prison, in Kansas. She founded the Native North American Women's Association, which sponsors art and education projects, and instituted a scholarship fund, Nihewan Foundation, for Native Americans who wish to attend law school. Although her recording schedule has slowed, she remains a unique singer-song-writer with an international following.

Native North American Biography edited by Sharon Malinowski and Simon Glickman